One-night exhibition by Lisa Holzer and Chiara Minchio
Vierter Abend mit Lisa Holzer, Chiara Minchio, fabrics interseason, Marcus Geiger,
Helena Huneke, Tanja Widmann
Pro Choice, Vienna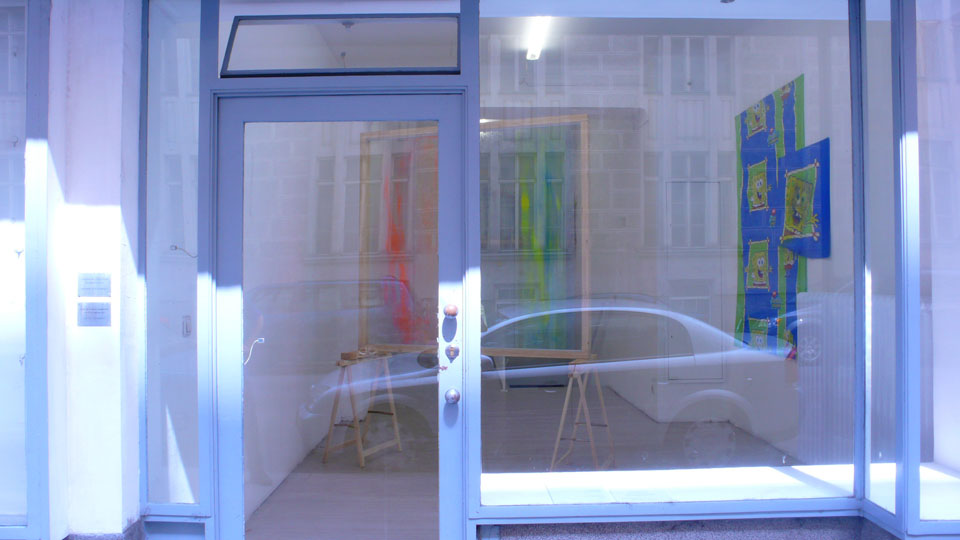 fabrics interseason, Shade Multicolour
Helena Huneke, The Artist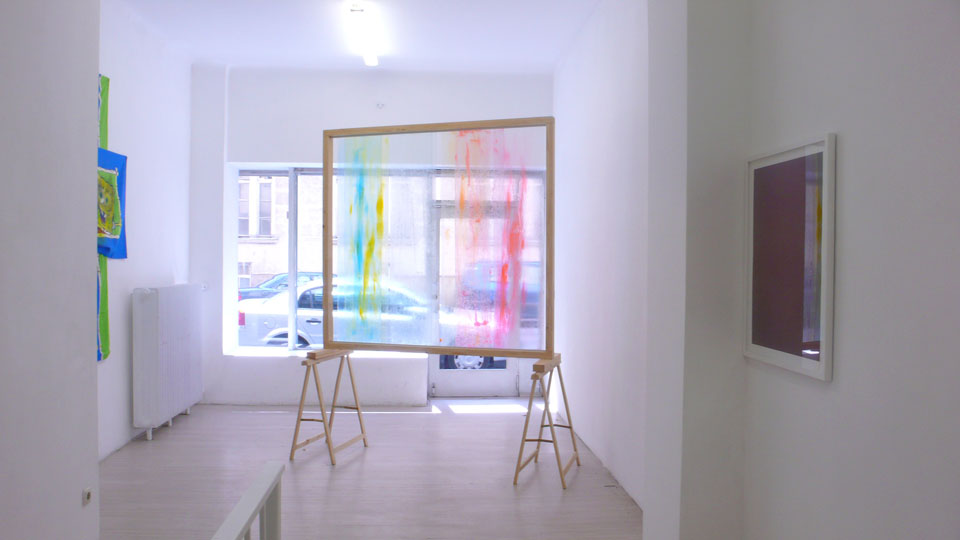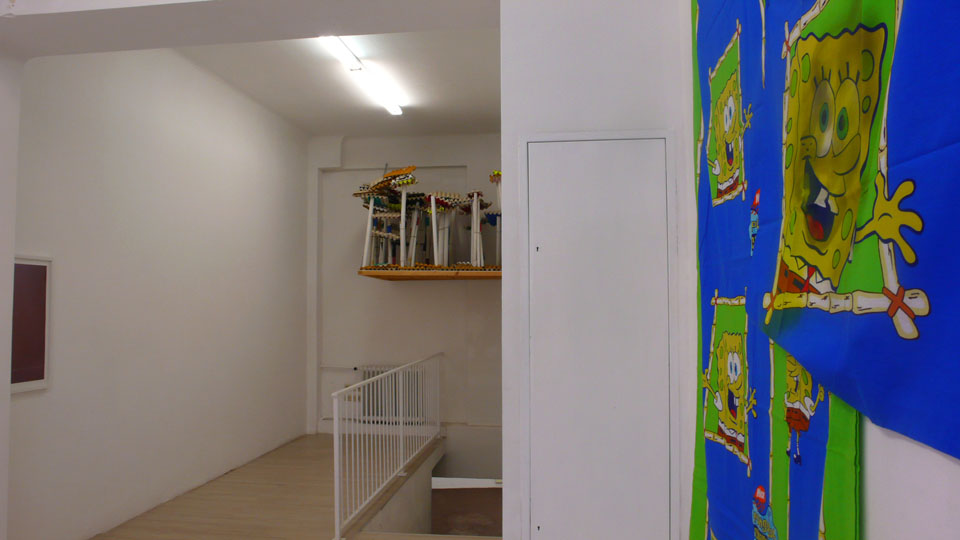 Lisa Holzer, Kakao Kakao Kakao Kakao
fabrics interseason, Shade Multicolour, Akropolis Modern Vögeln
Helena Huneke, The Artist
_________ ho is no substitute for anything
_________ ho is no substitute for anything ist ein als unregelmäßig fortlaufend gedachtes Künstlerinnenprojekt von Chiara Minchio und Lisa Holzer in Anlehnung an Louise Lawler und Sherrie Levines A Picture Is No Substitute for Anything, 1981-82.
Den Anfang machen 4 Ausstellungen für eine Nacht, an 4 Abenden, an 4 verschiedenen Orten in Wien. Unsere Arbeiten im Kontext von Lieblingsarbeiten einiger ausgewählter KünstlerInnen. Das gesamte Projekt ist in jeder Hinsicht gleichzeitig als Hommage und Geste der Appropriation zu verstehen.
Main Entry: 1ho
Pronunciation: \ˈhō
Function: interjection
Etymology: Middle English
Date: 15th century
–used especially to attract attention to something specified <poise ho>
ho wurde speziell dafür verwendet, Aufmerksamkeit auf etwas Bestimmtes zu lenken. Wir nutzen es ohne weitere Angaben als Poster für die Ausstellungen. Das Plakat funktioniert so als autonomes Zeichen. Elegant und schwierig wird es als Geste der Weigerung den Auftakt für je 2 Ausstellungsabende bilden. Die Leerstelle vor dem ho im Titel, sowie die Wahl von ho für das Ausstellungsplakat unterstreicht unsere Weigerung hinsichtlich der Entscheidung für etwas Bestimmtes, einer einzigen Behauptung bzw. einer Festlegung auf ein spezielles Thema. Sie behauptet statt dessen eine Weigerung an sich, läßt offen und ist komisch. Es wird zwei Plakate geben. Einmal ho und das zweite Mal ein spiegelverkehrtes ho. ho ist dann jeweils eine Woche vor der ersten und eine Woche vor der dritten Ausstellung in Wien plakatiert.
Eleganz und Weigerung ho! Kunst und Haltung ho!
Tanja Widmann, Testrun
Performance in collaboration with
Ulrike Köppinger, Johannes Porsch, Florian Kaindl, Wolfgang Steinbauer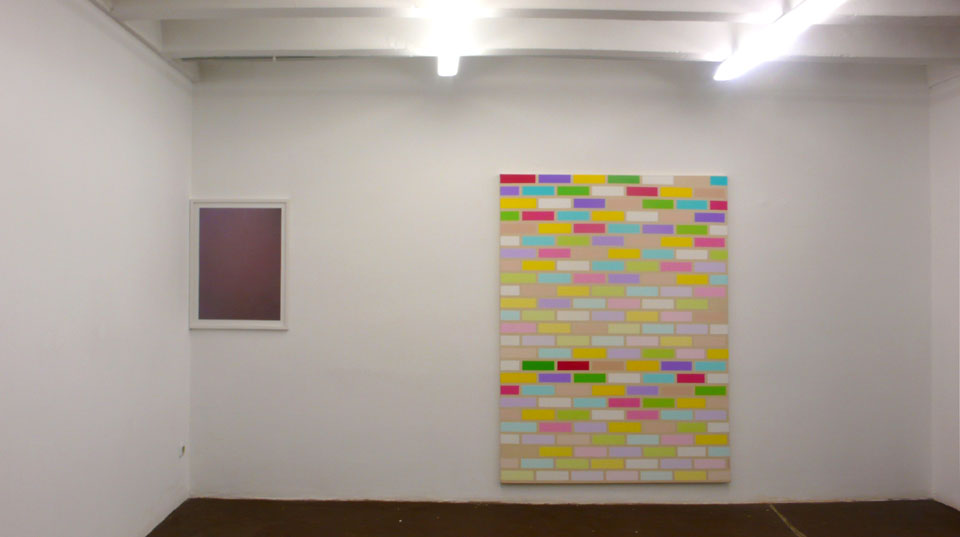 Lisa Holzer, Kakao
Chiara Minchio, Bricks on Canvas 6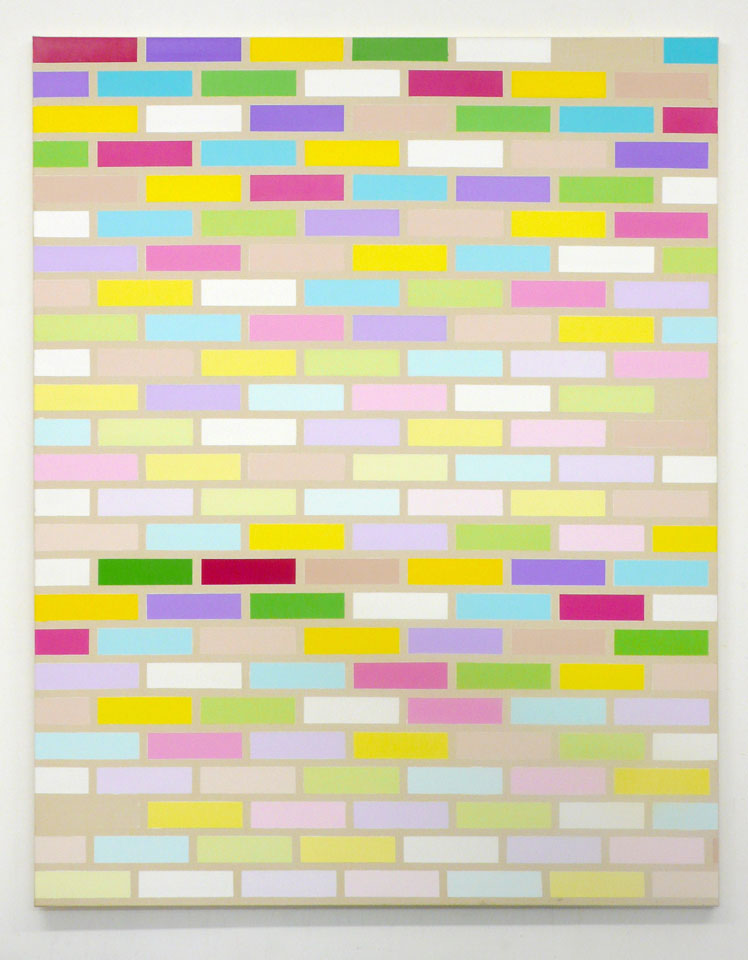 Chiara Minchio, Bricks on Canvas 6, 150 x 190 cm
oil and wax on canvas, 2010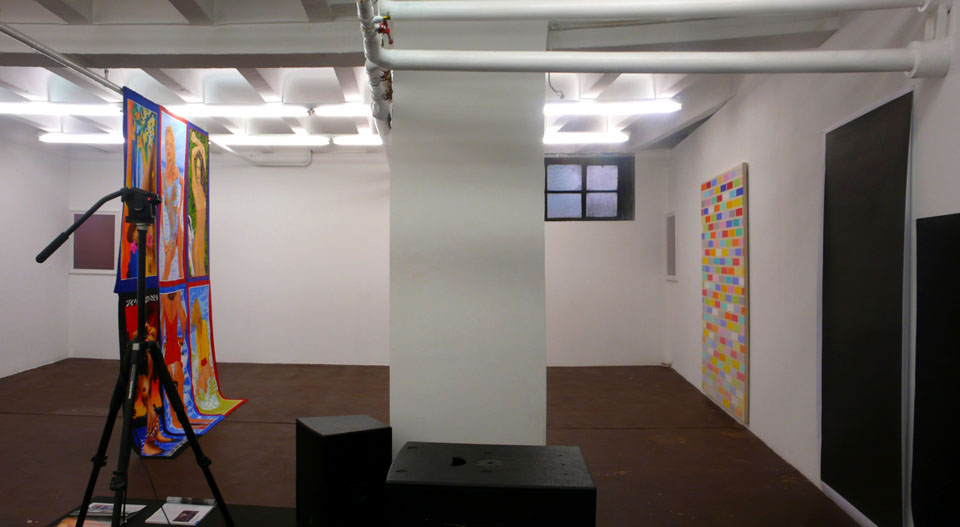 Lisa Holzer, Kakao, Chiara Minchio, Bricks on Canvas 7,
Marcus Geiger, Untitled, Tanja Widmann, Testrun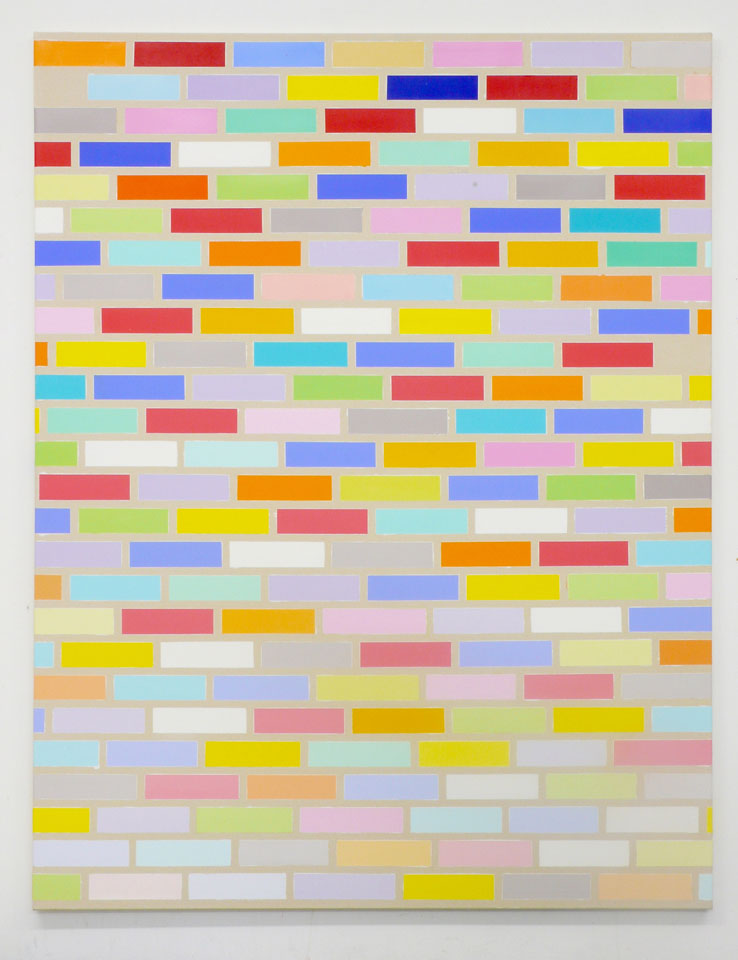 Chiara Minchio, Bricks on Canvas 6, 150 x 190 cm
oil and wax on canvas, 2010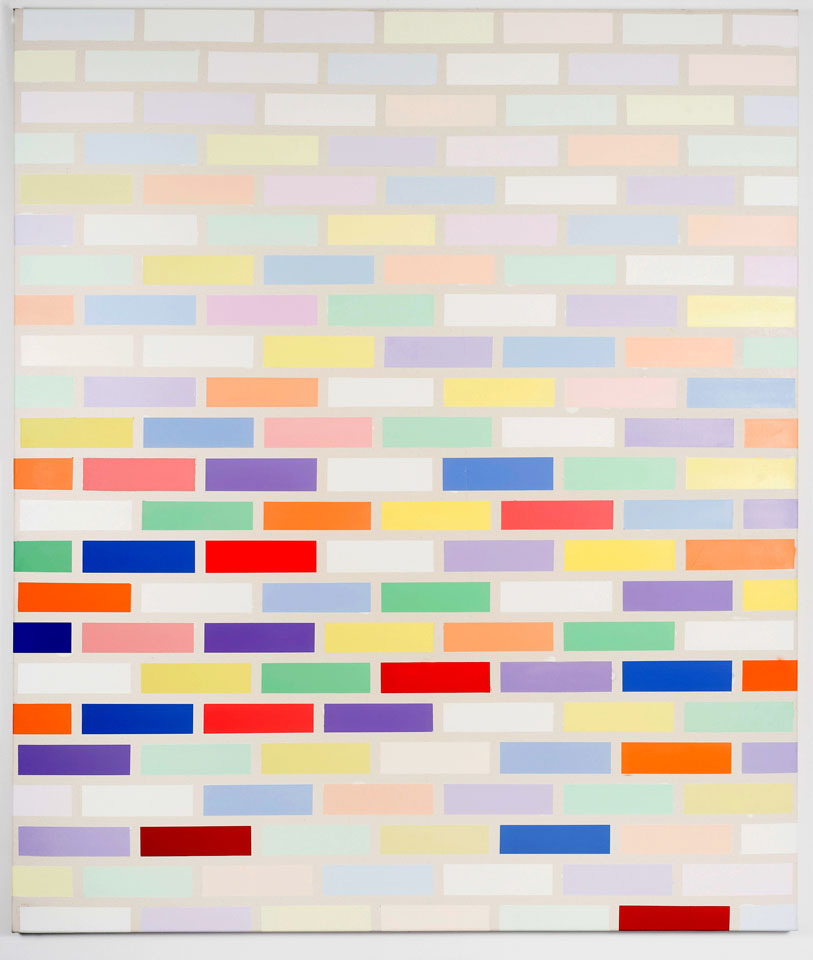 Chiara Minchio, Bricks on Canvas 2, 146 x 170 cm
oil and wax on canvas, 2009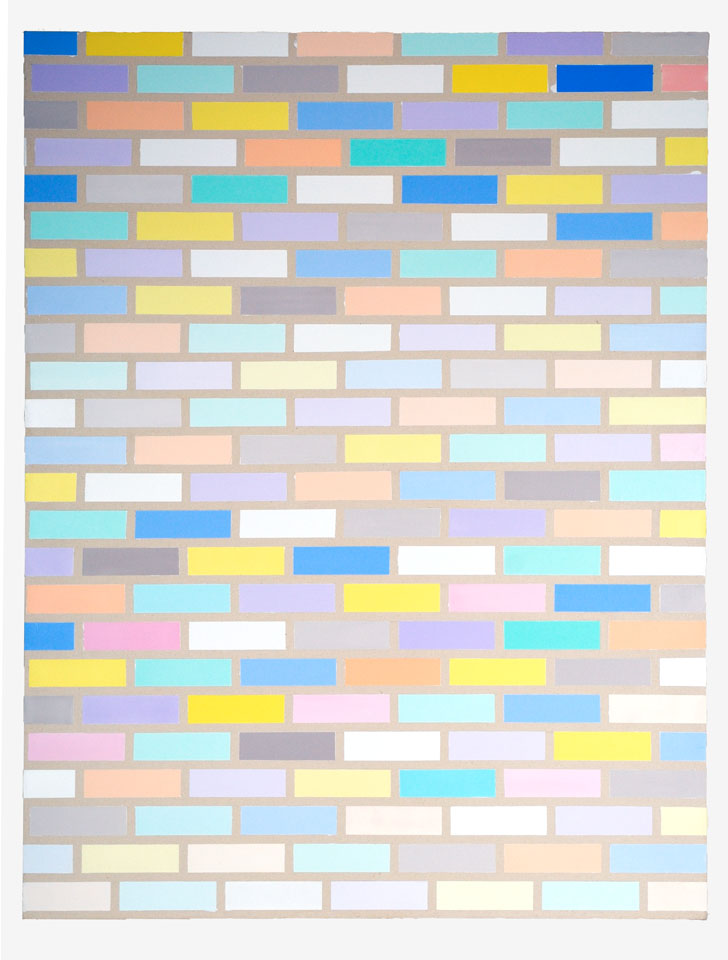 Chiara Minchio, Bricks on Canvas 4, 142 x 183 cm
oil and wax on canvas, 2009
Bricks on canvas
What you see are colourful rectangles. They look soft and smooth like children's colours. Wax is mixed into the oil colour. Stencilled in a row on canvas. No mortar holds the bricks together, so the canvas becomes the mortar. The canvas can be seen as a personal system or an economic system, where the bricks represent goods, and the changing and the fading of the rectangle colours represent their circulation. And because they're floating, they could collapse at any time. The economy I like to tell about is the one narrated in the comic Krazykat, a strip by George Harriman, New York, from the 20th Century. The strip focuses on the curious love triangle between Krazy, a cat of indeterminate gender (referred to as both "he" and "she"); the obsessive antagonist Ignatz Mouse; and the protective police dog, Offissa Bull Pupp. Krazy nurses an unrequited love for the mouse. However, Ignatz despises Krazy and constantly schemes to throw bricks at Krazy's head, which Krazy misinterprets as a sign of affection, uttering grateful replies such as "Li'l dollink, allus f'etful". Offissa Pupp, as Coconino County's administrator of law and order, makes it his unwavering mission to interfere with Ignatz's brick-tossing plans and lock the mouse in the county jail. The circulating bricks narrated in the strip are always the same, but constantly change owner and meaning. They become the symbol of this economy of desire.
White Bricks…
…are the inversion of the colourful bricks. Like ghost bricks. While working on the colourful bricks I observed the white bubbles that appear as a defect, in part by stencilling them, under the coloured rectangles. Which reminded me of speech bubbles.
On the inverted painting those speech bubbles are colourful. Speech bubbles, as if bricks could communicate with each other, represent a further economy of desire.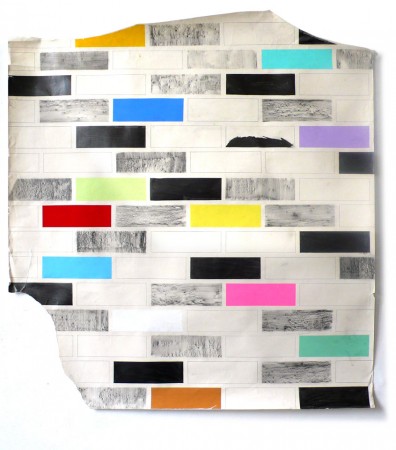 Chiara Minchio, Bricks on Paper,  100 x 115 cm
gouache and pencil on paper, 2009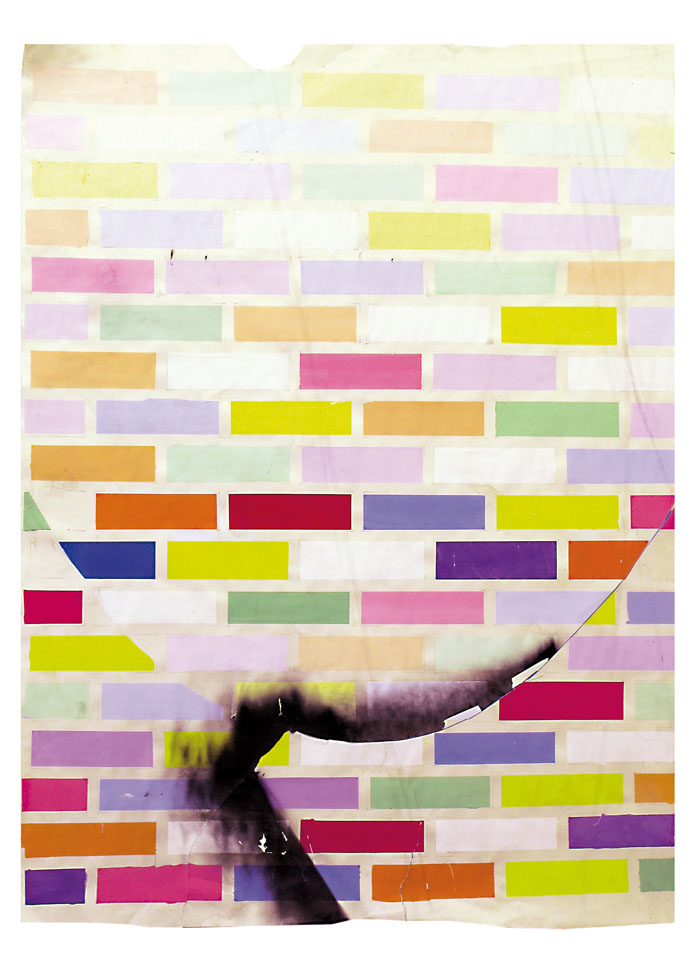 Chiara Minchio, Bricks Black Smile, 106 x 142 cm
gouache and spray-paint on paper, 2009